2018
Jan. 19th Corporate Party Westlake,Ohio
Feb.23rd Kent Beatlefest Kent,Ohio
@ Dominicks
June 17th Stan Hywet hall and gardens Akron,Ohio
11:30 to 1:30
Dec. 8th TBA
2017 Venues
Feb.24th Kent Beatlefest Kent,Ohio
May 14th Hard Rock Cafe Pittsburgh,Pa.
June 10th Arby's 6pm Salem,ohio
July 9th Hanoverton Homecoming Hanoverton,Ohio
12 noon - 2pm
July 14th Tommy D's Warren,Ohio
July 28th Cleveland w/ Pop Tarts Cleveland,ohio
Aug. 12th Social 45 Lisbon,Ohio
Aug. 26th Corporate Party Hudson,Ohio
Sept. 16th HBA Corp./Belkin Prod. Aurora,ohio




2016 venues
february 19th kent beatlefest @ dominicks kent,ohio
8pm - 12pm

Tba guilford lake grille lisbon,ohio
june 11th arby's salem,ohio

june 25th warren amphitheater warren,ohio
sat. 5:30pm
july 29th private party brooklyn,ohio





sept. 17th private event beechwood,ohio

2015 Venues
FEBRUARY 20 th KENT BEATLEFEST @ DOMINICK'S KENT,OHIO
8pm-12pm
april 11 th wedding beechwood,ohio
june 18 th Cherry blossom festival chagrin falls,ohio
7pm-9pm
July 22nd Youngstown Developmental Co. Mineral Ridge, Ohio
7pm-9pm
august 8th buffalo hollow petersburg,ohio
6:30pm - 7:30pm
August 9th Eton collections gazebo woodmere,ohio
7pm - 8pm
oct. 1st Corporate event @ The Embassy Youngstown,ohio


2014 Venues
Feb. 7th Beatlefest / Fab Four Commemoration Kent, Ohio
May 30th Brunswick High School Football Stadium Brunswick,Ohio
June 21st Arby's in Salem / Food Pantry Salem,Ohio
Aug. 2nd Private Corporate Celebration Boardman,Ohio
Aug. 3rd Concert on the Wabash River Bluffton, Indiana
Aug. 9th Raceland Race Days Raceland, Kentucky
Aug. 15th Buffalo Hollow Petersburg, Ohio
Aug. 22nd Waterworth Memorial Park Band Shell Salem,Ohio
Aug. 23rd Sebring Festival Sebring,Ohio
Oct. 4th Civic Center Johnson City, Tennessee
Oct. 10th House of Blues Cleveland, Ohio
Nov. 11th Case Western Reserve University Cleveland, Ohio
Nov. 15th Concert w/ World Renowned Beatles Author Kenneth Womack Villa Maria, Pa.

2013 Venues
June 22nd Hot Rod Nationals Salem,OH.
July 27th Dragway 42 West Salem, Oh.
Aug. 10th Cleveland Metro Parks Cleveland,Oh.
Aug. 17th Raceland Festival Raceland,Ky.
Aug. 28th Mentor Library Mentor,Oh.
Oct. 6th Jim Stewart Fund Raiser Salem,Oh.
Nov.10th Ohio University Athens,Oh.
Dec. 31st New Years Eve Salem Salem,Oh.


2012 Venues
April 28 Cleveland Renaissance Cleveland, OH
May 22 Corporate Event Sandusky,Oh.
June 7 Greek Festival Canton,Oh.
June 16 CHANGES New Castle,Pa.
June 23 Music Festival Rogers,Oh.
June 23 Super Nats @ Arby's Salem,Oh.
July 14 Mosquito Lake Marina Cortland,Oh.
July 19 Cleveland Metro-Park Cleveland,Oh.
Aug. 5 Conneaut Lake Conneaut,Oh.
Aug. 1o Buffalo Hollow Petersburg,Oh.
Aug. 18 Lake Co. Fair WNCX Painesville,Oh.
Aug. 18 Quaker Steak & Lube Austintown,Oh
Oct. 20 Alchemy Acres Salem,Oh.
Nov. 13 Corporate Function Columbus,Oh.
Ohio School board Association
Greater Columbus Convention Center
Dec. 21 Private function 8:00pm Lakewood,Oh.
Dec. 31 New Years Eve Salem Salem,Oh.



2011 Venues
Jan. 21-22, 28-29, Feb. 4-5
Lawrence Welk Theater
Encinitas, California
March 18
Wickliffe Freeway Lanes, 9:30 p.m.
Wickliffe, Ohio
May 20
RAV'S Creekside, 8:00 pm, Venue info
Twinsburg, Ohio
June 4
Animal Welfare League Car Show, Eastwood Field
Niles, Ohio
June 11
Private Function
Beachwood, Ohio
June 12
Olde Harbor Inn, 8:30 p.m., Venue info
Portage Lakes, Ohio
June 18
Private Function
Youngstown, Ohio
June 25
Hot Rod Nationals (benefit Salem Food Pantry)
Salem, Ohio
July 2
Concert for Fireworks at the Fairgrounds, Canfield Rotary Club, 6:30 p.m.
Canfield, Ohio
July 3
National Day/Night Out, Salem/Perry Township Crime Watch, 8:30 p.m.
Salem, Ohio
July 9
Private Function
Freedom, Pennsylvania
July 16
tba
Wellsville, Ohio
July 21
WV Power Baseball Stadium
Charleston, West Virginia
July 23
WNCX, Cleveland Metroparks
Cleveland, Ohio
July 29
Thistledown Race Track
North Randall, Ohio
August 27
Corporate Function
Ames, Iowa
Sept.4th
Olde Harbor Inn, 8:30 p.m.
Portage Lakes, Ohio
Sept.24th
Youngstown Club, Dinner @ 6:00 p.m.
Youngstown, Ohio
Oct.1st
Hebron Street Festival, 8:30-10:30 p.m.
Hebron, Indiana
Oct. 11
Just Added!! Cleveland Rock & Roll Hall of Fame, Please stay tuned for time (;
Cleveland, Ohio
Nov. 12
Butler Institute of American Art, 7:00 p.m., Venue info
Youngstown, Ohio
Dec. 31 New Year's Eve
New Year's Eve Salem, Kent State City Center, Venue info
Salem, Ohio
STAY TUNED
2010 Venues
Feb. 5
Squaw Creek Resort Dinner Dance
Warren, Ohio
March 13
Beatle Festival, Ambulance Fund
Montgomery, Pennsylvania
May 14
Fifth Season Banquet Center Dinner Dance Venue info
Mineral Ridge, Ohio
May 22
The Rex Theatre
Pittsburgh, Pennsylvania
June 5
Concert for Vietnam Veterans
Johnson City, Tennessee
June 12
Salvation Army Benefit, 4:30-6:00
Lisbon, Ohio
June 27
Alcamey Acres Benefit for Animals, Sam's Club, 5:00-6:00
Boardman, Ohio
July 4
Palmyra Anniversary Concert
Palmyra, Pennsylvania
July 10
RAV'S Creekside, 8:00 pm, Venue info
Twinsburg, Ohio
July 18
Corning Mansion -- Private Function
Bratenahl, Ohio
July
Private Function
Wilson, North Carolina
August 13
Buffalo Hollow
East Palestine, Ohio
Sept. 4
Glenn Christian Church Fair
Trumbull County Fairgrounds
Sept. 11
Aviation Day, Kent State Airport, 1:00 p.m.
Stow, Ohio
Sept. 11
Private Function, 7:00 p.m.
Wadsworth, Ohio
Sept. 18
The Youngstown Club Venue info
Youngstown, Ohio
Nov. 13
Butler Institute of American Art, 7:00 p.m., Venue info
Youngstown, Ohio
Dec. 17
Private Function, 9:30 p.m.
Willoughby, Ohio
Dec. 31 New Year's Eve
First Night Salem, Kent State City Center, Venue info
Salem, Ohio
2009 Venues
Feb. 13
The Pint Night Club
Chester, West Virginia
March 28
Slim & Chubbies Venue info
Strongsville, Ohio
April 11
Mountaineer Casino and Resort Venue info
Chester, West Virginia
June 20
Salem Hot Rod Nationals Venue info
Salem, Ohio
July 3
Crocker Park
Westlake, Ohio
July 4
Eddie Dawson's Calvacade of Stars
Chicago, Illinois
July 18
Private Party
Staten Island, New York City, NY
August 7
Buffalo Hollow
Columbiana, Ohio
August 15
Private Party
Greenford, Ohio
August 16
Ponderosa Park
Salem, Ohio
Sept. 19
Slim & Chubbies Venue info
Strongsville, Ohio
Sept. 26
The Youngstown Club
Youngstown, Ohio
Oct. 9
Hot Fish Club
Myrtle Beach, South Carolina
Nov. 14
Butler Institute of American Art Venue info
Youngstown, Ohio
Dec. 31 New Year's Eve
Palmyra 250th Anniversary Celebration On the Square Venue info
Palmyra, Pennsylvania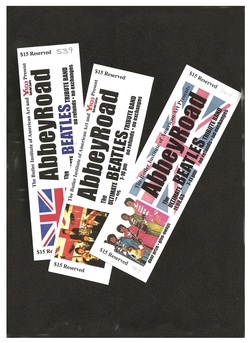 For Booking Information:
John Gilbert 330-332-1875